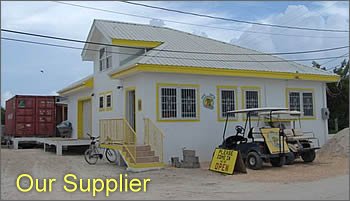 Caye Coffee supplies freshly roasted coffee to San Pedro Town and communities throughout Belize And now within the United States via CayeCoffee.com. Caye Coffee (pronounced "kee" coffee) is located on Ambergris Caye, a small island in the Caribbean just off the coast of Belize.
Caye Coffee are the first and only coffee suppliers to set up a roasting facility designed to offer fresh roasted coffee to the people of Belize. Our coffee is roasted on site in our Diedrich roaster and our main focus is supplying businesses, resorts and individuals with freshly roasted and ground coffee by the pound.
We will make sure that you receive the freshest coffee direclty from the factory.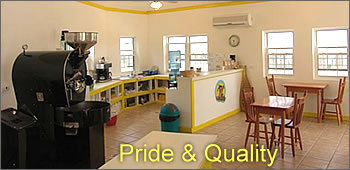 If you are ever on on Ambergris Caye please visit our coffee shop in San Pedro Town, you can have a cup of coffee and watch the whole process as we turn our green coffee beans into the magic brew you so enjoy! We're right next door to the Sausage Factory, just follow the signs or ask any local, they can tell you how to find us.
Take a few minutes now to browse through our web-site to learn a bit more about our coffee.